Speaker Types
Smart speakers come in various shapes and sizes. Use the chart below to find which design fits best with your lifestyle and budget. Examples of some of the most popular smart speakers in each category are also included. You can then go to the comparison page to see details about each one.
Mini Speakers
Mini smart speakers are great a great introduction to the world of IoT devices and are great at controling smart home devices in smaller rooms. They typically hover around the $50 price point.
Examples
Amazon Echo Dot
Google Home Mini
A Google Home Mini (in grey) next to the third-generation Echo Dot (in black).
Regular Speakers
These are the two the started it all. The first smart speakers from Amazon and Google. They are best for the avergage consumer, balancing features with price. They typically retail for arount the $100 price point.
Examples
The 2018 Echo (in grey cloth) next to a Google Home (in white plastic and organge metal).
Premium Speakers
If you want to have a smart home and value audio quality, a couple premium smart speakers in the main rooms of your home act as the centrepiece for the modern smart home.
Examples
Amazon Echo Plus
Google Home Max
Apple HomePod
Sonos One
The Sonos One smart speaker.
Smart Displays
Smart displays work well in the kitchen due to their screen. They allow you to view receipies, shop online and manage your shopping list while not relying on voice alone.
Examples
Amazon Echo Show
Amazon Echo Spot
Google Home Hub
LG Smart Display
Facebook Portal
CNN from YouTube TV being played on an LG Smart Display.
Device Embeds
Although some might view talking to your mirror as weird, virtual assistants embedded into current devices are super practical in some usecases (like in a washroom or on a patio) where smart speakers don't typically work well.
Examples
Ecobee Smart Switch
Kohler Verdera Mirror
Samsung Family Hub fridge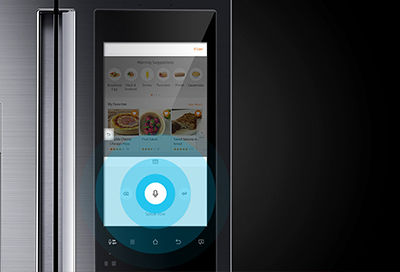 Bixby activated on the Samsung Family Hub refrigerator.